John Wesley's American Parish
Savannah, Georgia
Heritage Landmark of The United Methodist Church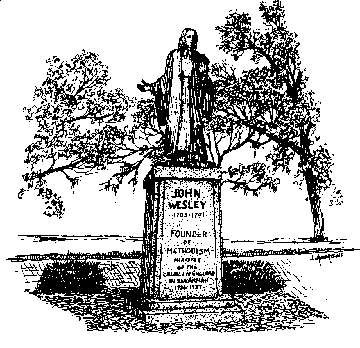 Savannah was a planned city, founded in 1733 by philanthropist and reformer General James Oglethorpe and laid out according to his design. In 1735, Oglethorpe invited John Wesley to come to Georgia as the colony's chaplain. Wesley sailed for Georgia on October 14, 1735, along with his brother Charles, who was to serve as Oglethorpe's private secretary.
Others in the party included Benjamin Ingham and Charles Delamotte, members with the Wesleys of "The Holy Club" at Oxford. The faith of a group of Moravian Christians on board the Simmonds with the Wesleys made a deep impression on John.
On February 6, 1736, the ship's passengers set foot on Peeper (now Cockspur) Island, and John Wesley led them in a prayer of thanksgiving. (A monument now marks the spot.) Exactly a month later, on March 7, he preached his first sermon in a hut in Savannah†that served as both a courthouse and a place of worship.
The next two years were very difficult ones for the Wesley brothers. Charles was not temperamentally suited to be Oglethorpe's secretary. He also was not suited to be the parish priest to the new settlement at Fort Frederica on St. Simons Island, about seventy-five miles south of Savannah. He ran into trouble with the colonists, had bouts of illness, and became so disheartened that he returned to England in August, just six months after their arrival.
John faced his own problems. He, too, was at times unpopular with the colonists, and a disastrous love affair with Sophy Hopkey only made his situation worse. Continued contact with the Moravians led him to question the state of his soul, and he failed to realize his hopes of a mission to the American Indians in Georgia. He wrote in his journal, "I came to convert the Indians, but, oh, who will convert me?"
John Wesley sailed for England on December 2, 1737, discouraged and uncertain about his future. He later said that he was only "beating the air" during his time in Georgia.
However, the time was not wasted. The questions that drove him from Georgia brought him "very unwillingly" to a meeting in Aldersgate Street in May, 1738, where he had his famous "heart-warming" experience. One could say that his months in Georgia were an important apprenticeship for the work that would be his for the next fifty years.
Points of interest at this Heritage Landmark: There are several places to visit. This first is outside Savannah on Cockspur Island. A marker near historic Fort Pulaski notes the arrival of the Wesley brothers on this island on February 7, 1736. The rest of the places are within easy walking distance of each other in downtown Savannah. The John Wesley Statue in Reynolds Square is identified with a marker. Facing the statue, the site of Wesley's parsonage and garden is on Lincoln and President. The Oliver Sturges house is on the parsonage site at the corner of Julian Street and Abercorn. While Wesley had no church building, the visitor should see Christ Episcopal church on Johnson Square. Continuing around Johnson Square to the right is the site of Wesley's first worship service, now the U.S. Customs House. Look for the plaque on the rear of the Customs House. The site of the Town Hall where Wesley held regular services is now the U.S. Post Office at Wright Square on Bull Street. There is a plaque on the Whitaker Street side of the building.
Special events: None as of this writing.
Area attractions: In addition to Savannah's historical and cultural attractions are the Heritage Landmarks of the South Georgia Annual Conference: St. Simons Island and the Wesleyan College Cluster. Bethesda Home for Boys, in the southeast section of the city on Ferguson Avenue, was founded as an orphanage by George Whitefield in 1740.
To visit: The locations are all accessible during daylight hours.
Location: Within the boundaries of the South Georgia Annual Conference, in Chatham County. The Heritage Landmark is a cluster of sites in downtown Savannah at the eastern end of Interstate 16, just off Interstate 95. Cockspur Island is east of Savannah on Highway 80.
Food and lodging: There are many restaurants and hotels in Savannah.
Directions: The main routes into Savannah are Interstates 95 and 16. Exit I95 at the I16 interchange. Follow I16 to its end in downtown Savannah. Continue straight ahead to US 80; turn right on Bay Street. The Wesley sites are clustered near the Wesley statue in Reynolds Square, one block off US 80E (Bay Street) at Abercorn Street.
To visit Cockspur Island, proceed east out of Savannah on Highway 80; follow the signs to Fort Pulaski. The Wesley marker is on a trail just north of Fort Pulaski's parking lot.
For further information, contact: Mary Ann Travers, cwtmat@coastalnow.net or call Trinity United Methodist Church, 225 W. President Street, Savannah, 912-233-4766.
To learn more about United Methodist history in this area:
The Arthur J. Moore Methodist Museum,100 Arthur Moore Drive, St. Simons Island, GA 31522; Anne Packard, Director; 912-638-4050; E-mail: methmuse@bellsouth.net; Website: http://www.mooremethodistmuseum.com/. Epworth by the Sea, 912-638-8688; Website: www.epworthbythesea.org.
Haygood S. Bowden, History of Savannah Methodism from John Wesley to Silas Johnson (Macon: Burke, 1929).
Our First Visit in America: Early Reports from the Colony of Georgia, 1732-1740, introduction by Trevor R. Reese (Savannah: Beehive Press, 1974).